About Howard Audsley, ARA
Howard Audsley, ARA was born and raised in Carrollton, Missouri. He grew up on a combination livestock and grain farm in Carroll County, MO, and graduated from the University of Missouri, Columbia, with a BS in Agriculture.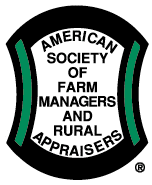 Howard holds the prestigious Accredited Rural Appraiser (ARA) designation from the American Society of Farm Managers and Rural Appraisers. He is a Missouri State Certified General Appraiser (#RA 001006).
Active in promoting excellence in his profession, Howard has held numerous positions of leadership among professional Appraisers, including holding the office of President, Missouri Chapter of the American Society of Farm Managers and Rural Appraisers (ASFMRA), Secretary/Treasurer, Chairman of the Education Committee, and Chairman of the Accrediting Committee. He has also served as a member of the Bylaws Committee, Ethics Committee and has served as District IV Vice-President on the Governing Council of ASFMRA.
Serving as an instructor for the ASFMRA, Howard has taught entry, intermediate and advanced courses covering most aspects of appraisal theory. He currently serves as developer and course instructor for A301, Cost Approach for General Appraisers (Online version), which is a joint offering between ASFMRA and the University of Missouri. His commitment to continuing education extends to himself, of course, and he has qualified under the ASFMRA Mandatory Continuing Education program.
Perhaps more important is his practical, problem solving experience, with over 30 years in the field. Howard has completed appraisals in over 80 counties in Missouri, as well as in Iowa, Illinois, Arkansas and Oklahoma. His client list includes buyers, sellers, owners, prospective owners, lenders, attorneys and governmental agencies.
Areas of expertise include eminent domain appraisals, including takings for roads, powerlines, sewer lines and flowage easements. Agricultural appraisals include vacant land to improved properties, including orchards, vineyards, dairies, hog confinement properties, grain elevators, seed cleaners, cropland and livestock farms of all sizes. And his extensive experience doesn't stop at the city line: he is experienced with appraisals for urban and commercial properties, including offices, apartments, retail stores, warehouses, manufacturing buildings, subdivisions and vacant urban land.
Howard is also a real estate agent, licensed in the State of Missouri, and is a member of the Central Missouri Board of Realtors. In the capacity of real estate agent, he is affiliated with Farmers National Company's Salisbury, Missouri office.
With unparalled commitment to ethical and professional standards, Audsley & Associates stands ready to put Howard's years of experience at your disposal. Please feel free to call or email Howard for more information.